Did you know that you can set the timing on a PowerPoint slide show so it advances automatically?  You can also set it up so it loops continuously.  This can be handy if you create an informational slide show and you just want it to run continuously in a public place.  Here's how to do it:
Start by creating your slide show.  Here are some links to some of the previous technology tips about PowerPoint to help you:  Basic PowerPointing, How to catch the BIG images, and Improving your PowerPoints.  The following instructions are for the 2003 version of PowerPoint but they are very similar in the 2010 version.

Loop Continuously: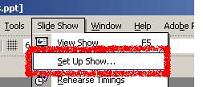 Once you have finished your show go to "Slide Show" on the menu bar and select "Set Up Show" from the menu.  In the "Set Up Show" window that appears you want to look for "Loop continuously until ESC" and check this box: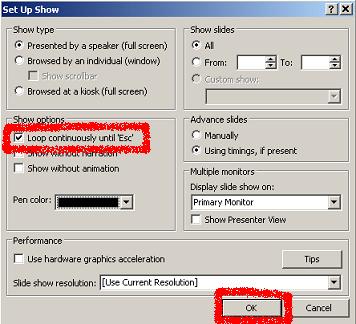 Slide Transitions: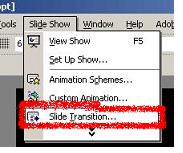 Once again, go to "Slide Show" on the menu bar but this time look for "Slide Transition".  This will open the slide transition option in what's call the the "Task Pane" on the right hand side of the screen.  At the bottom of the task pane look for the Advance Slide options.  Check the box for "Automatically after" and set the amount of seconds.  If you want every slide to advance automatically click the "Apply to all slides" button.