This tip will help you format the letters and numbers in your next excel spreadsheet.  Here's how to do it:
Right click on the text in excel that you would like to make changes to.  Then select "Format Cells" from the menu that appears.  In the "Format Cells" window click on the tab for "Font" and make your changes here.  When you are done simply click "OK" to make your format changes.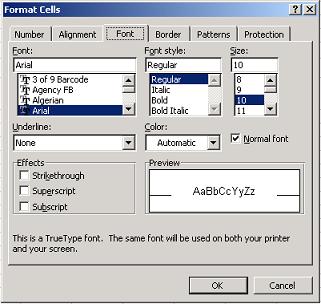 To adjust the background color of a cell or add borders try the "Borders" and "Patterns" tabs.
Try formatting some text in excel right now.  Click on the image below to try an online activity.  To view the activty click "Open" when you are prompted.  Then try formatting the text under "Yours" so it looks like "Mine" by right clicking as described above. 
In Excel you can also format text by using the formatting toolbar, just like in Microsoft Word.