This technology tip will offer a little bit on insight into how the internet and World Wide Webworks.  When you access a webpage the computer code to tell your computer how to display that page is sent to your computer.  Do you want to see the computer code that was sent to your computer to display this webpage?  Here's how:
Go to "View" in the menu bar and look for "Source"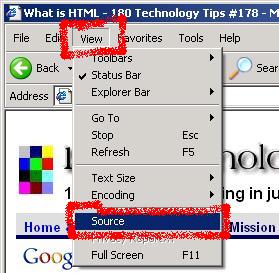 In some browsers you can just right click on the website and select "View Source"
What appears in a new window is the actual code that created this webpage.  It's called HTML which stands for Hyper Text Markup Language and it's origins go back to the European Organization for Nuclear Research 
near Geneva, Switzerland (known as CERN).  As a major international research organization CERN was interested in applying computers and the internet to facilitate academic collaboration.   During the 1980's this was the problem a British computer science expert was working on as he developed Hyper Text Markup Language.  By 1990, Tim Berners-Lee's idea had matured to become what he called the World Wide Web.  In 1994 he founded the World Wide Web Consortium which sets the international standards and specifications for the World Wide Web.
From the beginning Berners-Lee made his ideas and HTML code freely available without any copyright or royalty restrictions.  This, more than anything else, has made the adoption of the World Wide Web based on HTML such a huge international success.
This is also the origins of the concept of "Net Neutrality" which basically states that all data on the internet should be treated the same by internet service providers and governments. You can listen to the inventor himself explain the importance to Net Neutrality here:
And that's why you should care about HTML.  It's the backbone of the World Wide Webwhich is the largest and most recognized part of the Internet.
Would you like to learn more?  
Here's a link to some online HTML Tutorials.