Did you know that you could sort your email inbox in any number of ways?  This technology tip is all about sorting that huge list of emails in your inbox.  Please note that this tip is based on Microsoft Outlook but other email programs should have similar features.
Here's how to sort the messages in your Inbox:
Open up Outlook and look at the bar across the top of your Inbox.  You should see heading titles there like From, Subject, Received, and Size.

Click on one of these headings and your email should be automatically be sorted by that grouping.  For example, if you click Size all your emails will be sorted from smallest to largest (this is handy if you're looking for a big email to delete).  If you click Subject all your emails will be sorted alphabetically by the words in the Subject line.  If you click From you can see all your emails organized alphabetically by the name of the sender.

These different column headings are called "fields" and if you are looking for a heading and it's not there you can easily add it.  Here's how to do that: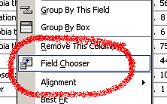 Right click on one of the headings and choose "Field Chooser" from the menu that appears.  This will give you a list of all the possible column headings (or fields) you could possibly use.  If you see one you'd like to add drag and drop it onto the header bar.
When you're done you'll probably want to sort your email by "Received" so the more recent emails appear at the top of the list again.