Smart phone technology is amazing. The combination of a cell phone with portable computer technology, digital photography and wireless internet access is creating a very powerful combination device that is quickly becoming everyone's number one, go-to tech device. But like any new technology, it's not cheap - at least not yet.
Republic Wireless has a new idea that's a "Game changer" according to Don Mcnay's article in the Huffington Post (www.donmcnay.com). CNET, Triangle Business Journal and Laptop Magazine. Even the Wall Street Journal has taken notice, you can watch Walt Mossberg's review below:
So what's the big deal? What makes looking at Republic Wireless worth your time?
They're currently offering the Moto X for $299 with no contract, which is more expensive than you would get it from Verizon, AT&T or Sprint; but the Republic Wireless version of the phone comes with no 2 year contract. Below are their current monthly plan offerings. Remember there is no contract and you can also change your plan up to two times a month.
$5

Unlimited WiFi
Talk, Text
& Data

No Cell Coverage


$10

Unlimited WiFi
Talk, Text
& Data

Unlimited Cell
Coverage
Talk & Text
ONLY

$25

Unlimited WiFi
Talk, Text
& Data

Unlimited Cell
Coverage
Talk, Text
& 3G


$40

Unlimited WiFi
Talk, Text
& Data

Unlimited Cell
Coverage
Talk, Text
& 4G
What's the cost difference?
When comparing Republic Wireless to other contract plans it's a good idea to consider the total costs over two years. For example, the $299 Moto X from Republic plus 24 months of the $40 monthly plan equals $1,259 (plus various taxes and fees). That's approximately $52 a month for unlimited WiFi, Talk, Text & 4G Data. The Moto X from Verizon with a 2 year contract would cost you $49.99 plus a monthly plan that includes unlimited Talk, Text and 8 GB of data (not unlimited) on their 4G network. That would cost you $90 a month for a total of $2,219.99 (plus various taxes and fees) over 2 years. That's approximately $92 a month for Verizon compared to approximately $52 a month with for Republic Wireless. If you prefer your savings in percentages, you're saving 43% with Republic Wireless.
So how does it work? The interesting thing about the Moto X from Republic Wireless is that it has been modified to utilize free WiFi whenever possible and to only use cell service (through Sprint) when there is no WiFi available. The savings created by minimizing cell tower usage can then be passed onto the consumer. The Moto X also comes with Republic Wireless's exclusive hand-off technology that will automatically transfer a call that was started on a WiFi connection to a cell tower if you move out of range from the router. This happens automatically without interrupting the voice call.
What's the quality like?
Some observations after spending one month with a Moto X from Republic Wireless:
The phone is as good if not better than any other leading smart phone that's currently available. You can watch these videos for specific comparisons: Moto X vs. Apple iPhone 5s, Moto X vs. HTC One, & Moto X vs. Samsung Galaxy s4. There is also a pretty thorough review of the Moto X with Republic Wireless available from CNET. Overall, the equipment is good.
The cell service from Sprint is currently not the best in the industry. In this CNET article you can read more about the challenges they face and the plans they have to upgrade their service. If you are going to be relying on the device to be primarily a cell phone you should spend some time carefully studying the coverage maps for Sprint that are available online: OpenSignal.com, Sensorly.com & Coverage.Sprint.com. In our experience we found Sprint's coverage to be as good and sometimes better than our previous carrier but that might not be true for everyone. 3G & 4G speeds will also vary based on where you are located so do some location specific research before you buy.
The WiFi call experience and Republic Wireless's exclusive WiFi to cell hand-off technology works just fine. Earlier reports that said this technology wasn't quite ready were talking about the earliest attempts and the BETA version that was available prior to the introduction of the Moto X. With their newest phone and upgraded software you should be fine. It's the availability of free WiFi and/or cell service from Sprint that might be a problem, not the hand-off technology from Republic Wireless.
The customer service experience is also something to consider. If you are the kind of person who couldn't walk past the kiosk for a big cell carrier at the mall without stopping by to ask them some technical questions you're going to have some trouble with Republic Wireless. One of the ways they are keeping costs down is to form an online community of customers who can trouble shoot problems and help each other out online. When you buy your phone from them they will be welcoming you to the group and encouraging you to participate in their blog.
Also, as part of their cost savings they will be encouraging you to use free WiFi whenever possible. Part of this involves supplying you with information about how often you are using free WiFi using a graph like the one below.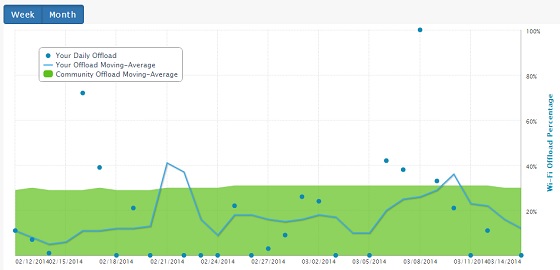 Conclusion:
If you have routine access to WiFi at home, at work, & throughout your day you should consider switching to Republic Wireless.
If you primarily use your phone for surfing the internet, texting, fooling around with various apps, and taking lots of pictures you should consider switching to Republic Wireless.
If you travel a lot, talk on your cell phone a lot, or already have a great cell phone deal through your company then Republic Wireless might not be the best fit for you.
Plans starting as low as $5/month from Republic Wireless for WiFi only service.

Back to the 180techtips.com Articles List
| 1 | 2 | 3 | 4 | 5 | 6 | 7 | 8 | 9 | 10 | 11 | 12 | 13 | 14 | 15 | 16 | 17 | 18 | 19 | 20 |